Orca Whale Flute

Finest Quality, Hand Made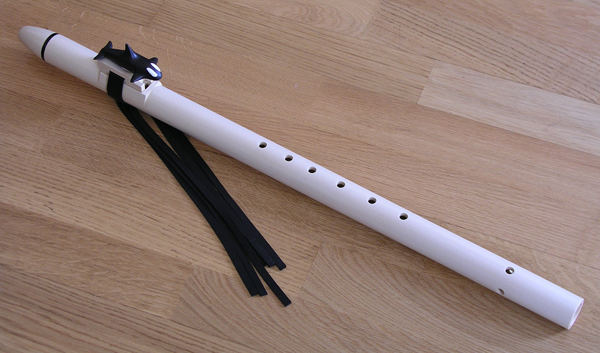 Created from a solid billet of 'Winter cut' Holly this flute has a stunning appearance that matches the beautiful tonal quality of the wood. The fabulous creamy white color of this flute is due to the Holly tree being felled during the winter months.

Designed with a removable magnetic block to protect it against damage when carried in a hard flute case (quiver), this instrument can be safely transported to any destination of your choice.

Made in honor of the beautiful Orca whale this instrument is one of its makers favorites.
Specifications

Wood Species
Holly wood (Solid Bore)
End Caps
None
Banding
Ebony
Block/Fetish
Hand carved and painted Orca whale - Magnetic (see more)
Other Adornments
None
Feature
Breath of Life Airway System (....more)
Tuning
Concert at 72 degrees. A4=440 Hz.

6 hole Pentatonic 1.4 Octaves - Traditional Modes 1 & 4 (Contemporary Tuning).

Also available
Please request by e-mail;

5 hole Pentatonic 1.4 Octaves - Traditional Modes 1 & 4 (Contemporary Tuning).

6 hole Pentatonic 1.4 Octaves - Multimode Tuning.

6 hole Diatonic 1.4 Octaves - with thumb hole for upper octave.

6 hole Diatonic 1.4 Octaves - without thumb hole. Over-blow for upper octave.

All flutes can be created in Verdi tuning (A4=432 Hz).

Click here for tuning charts